Took a looooong break from blogging but not from crocheting.
I made my cousin Christine's wedding afghan after a restart. I found out that white wouldn't work well with her decor so remade the hexagons with Caron one pound in off white. I made it 6 hexagons wide by 7 hexagons long, measuring... 45" x 65.5". Unfortunately I never got a picture of it before my mom took it to Tennessee. Christine loved it!
I started a Spiderman blanket for Sean using Stitch 'n Frog's
Superhero Dreamcatcher
pattern. I have the last 2 sections to finish (about 9 or 10 rows) then the webbing and it's all his. He's been "using" it, hanging tails and all when it's accessible.
Pat and Alex got married Nov 13th. I didn't end up making them an afghan. I figure I have their whole life to get one done. Besides I think one of the two Tree of Life afghans I have started is suppose to be their's. Alex requested an afghan for Christmas and I obliged. I used Hobby Lobby's I Love this Yarn for the first time and made a ripple afghan for her. It was done with 3 shades of blue I started from the bottom and made a section of each color, starting with 6 rows per color. Then I'd start the color sequence again but decrease a row each time. Once I got to 1 row I started increasing again. Can't quite remember whether I ended with a 3 or 4 row section at the top. It was finished with hdc around and then reverse single crochet in the darkest blue. Unfortunately I didn't measure it or get a picture of it. I wasn't too crazy for it and told her she could exchange it at a later date for an afghan of her choosing. She said she liked the one she received.
Next I started an afghan for my mom for Christmas. She'd recently redone her livingroom with dark brown, red and dark green furniture. She also purchased a large painting of a poppy that's on the wall. So I took a few patterns...mutilated and mashed them together and came up with the poppy trellis square. The poppy was made using
this flower
as a base (with a few modifications. The I surrounded it with the leaves and trellis from the Rose Trellis Afghan pattern in my new book... 50 Sensational Crochet Afghans and Throws. There are so many revisions I can't list them all here. If you want to see them check out the project on my
project page
at ravelry. Here's one of the squares...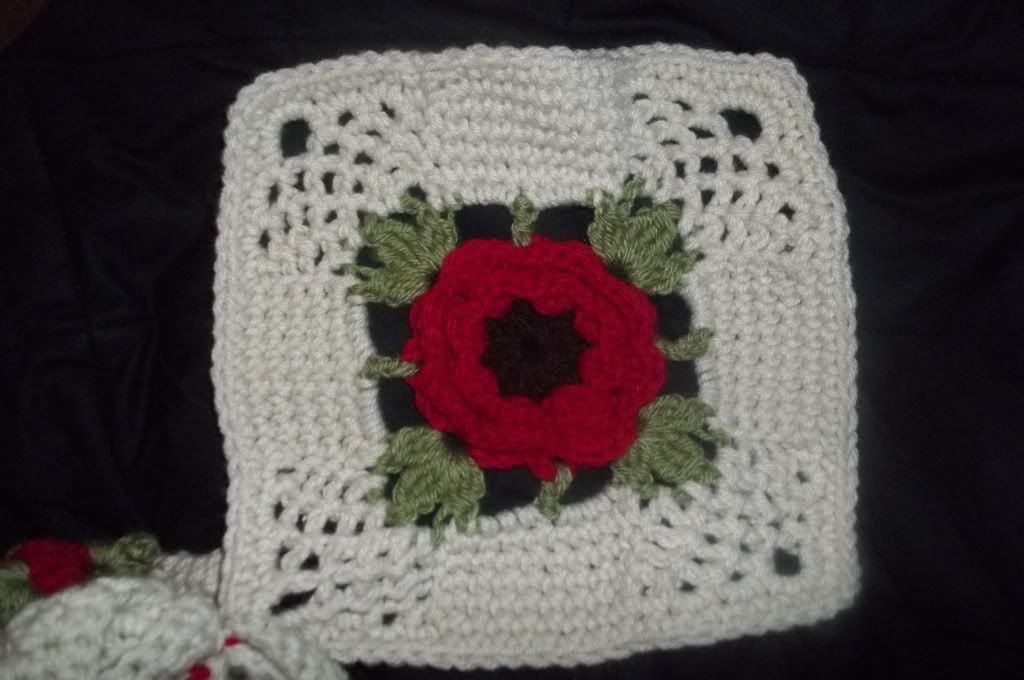 I didn't finish in time for Christmas so she got a box with 24 out of 35 squares in it. She's really excited for me to finish it. BUT...
I had to put my mom's present aside because we had a baby shower and a bridal shower on the 8th and 9th of January that I needed to make presents for. For the baby shower I picked up
this blanket
that I started in August. After buying more yarn it didn't take long to finish the body. It was the border that took for work. I hate deciding which border best suits which afghan. I decided to do alternating stripes of white and coordinating colors (mint, yellow, pink and baby blue). The white was done in hdc. The coordinating colors were done with 2 strands held together and in sc. I finished with a stripe of white and then reverse single crochet. Again no picture of the completed project.
For the bridal shower I picked the pattern Proposal from the 50 Sensational Afghans book. And again, I wasn't finished by the time the shower rolled around. I had the whole body done so wrapped that and then asked for it back so as to finish it. :o) After I got it back I decided to add another row of blocks to increase the length. The border itself took hardly any time. I had to give my hand a rest for a few days (thumb was getting extremely numb quickly) but had it done by that Wednesday. Now if I could just get the finished afghan to her before something happens to it. Here's a finished picture...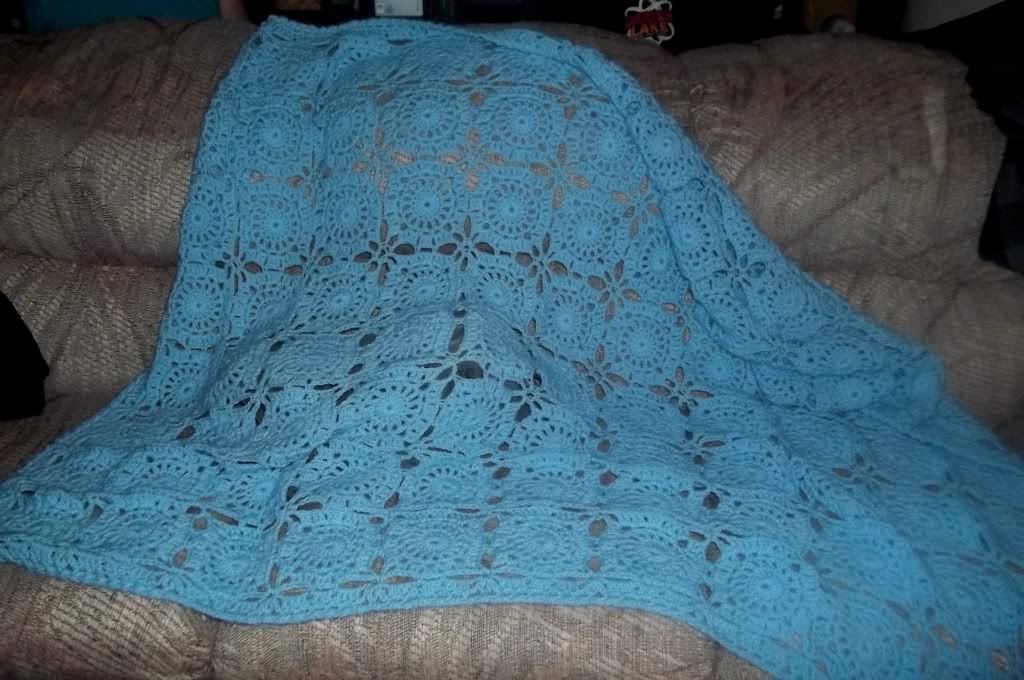 Closeup of the square....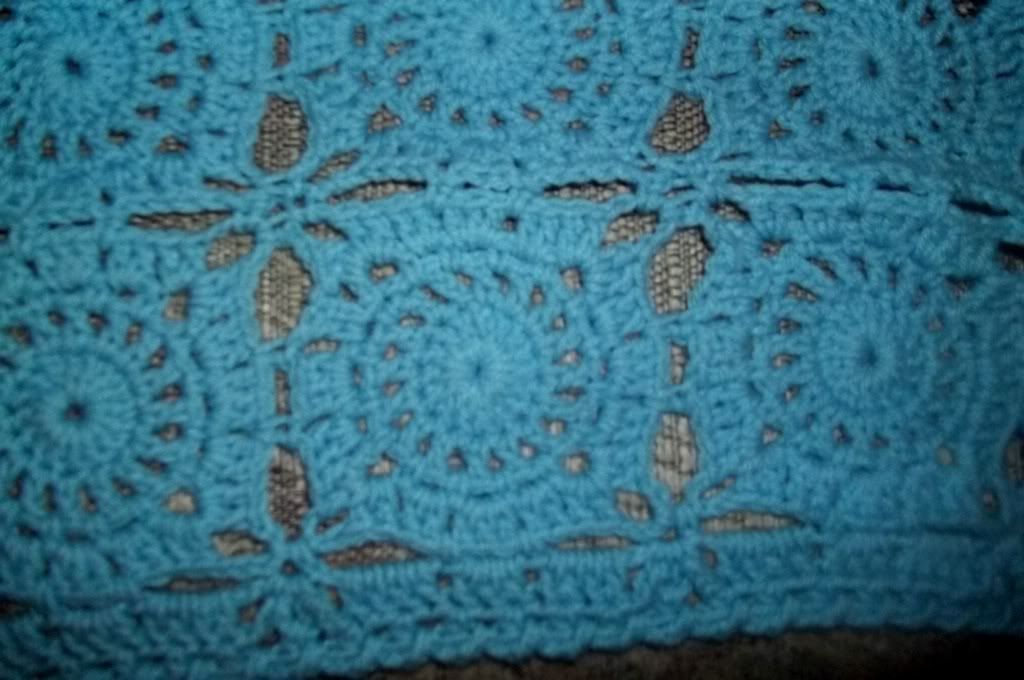 Today I'm back to working on my mom's afghan. Hopefully I can get it done by next week. (told her it would definitely be done by the end of the month) Then I'd like to finish Sean's blanket and maybe a few other WIP (works in progress).